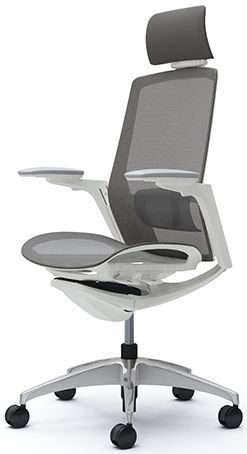 OKAMURA FINORA Racing Style Office Chair была разработана совместно с компанией Italdesign, которая мастерски справляется с решением сложных задач автомобильного дизайна.
FINORA Chair is a statement of style and identity.
Precision meets soul in graceful symmetries and clean contours, creating a chair that brings the beauty of lightness with full features for any workplace.

      
An uncompromising beauty of lightness
Every component of Finora is designed to combine style and functionality in one sleek form.
The backrest sweeps in a simple curve, gracefully integrating the armrests.
Adjustment mechanisms are tucked neatly under the seat.


Maximal impact with minimal materials.
Thin and light unite to make an understated impact.
The streamlined design is confident in character and elegantly upscale.


Intelligent engineering.
Highly adjustable, to bring a new level of comfort.
The flexible backrest and 4-D arms adjust to your body, creating a comfortable seating experience.


Iconic Back Frame Cover. Stunning design. Attention to detail.
Inspired by classic automobile styling, commitment to design creates moments of delight throughout.
The decorative panels are available in chrome, black, or white — all with a gloss finish to contrast with the matte mesh finish.
Every detail of Finora has been considered to adapt to a multitude of office environments.

CMF: Color, Material, and Finish
The three components that give any chair its final look are three opportunities to inspire